419 Racing Captures LW National Endurance Championship
Posted October 22nd, 2020 at 10:03 pmNo Comments Yet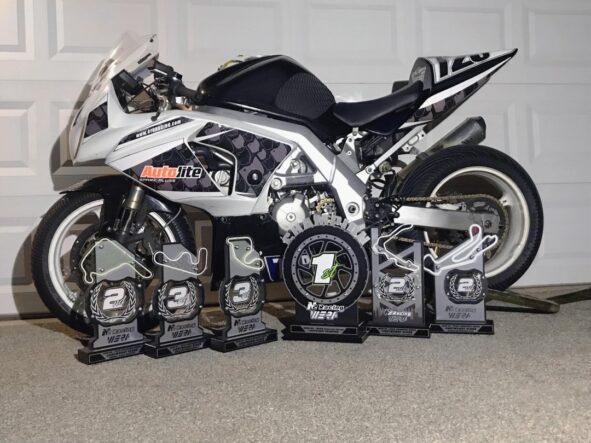 The 419 Racing endurance team had a great 2020 season. At the beginning of this season, we weren't real sure what our schedule was, but we decided no matter what… we'll make it to all the endurance rounds this year.
We had a mountain of luck and good fortune this season to go along with some great people to help us secure the LW championship. We swapped a fuel pump and snuck in a qualifying lap of practice at Summit, we finished a race at Nelson with one link holding the front timing chain together, we even finished a stint with an unnamed rider yaking in his helmet at Barber!
Our good friend and crew chief from the beginning, AJ from SWG Motorsports was only able to make the first couple of rounds. So we had to rely on help from great people like Matt Fager, Eden Weston and Jon Wilkens to get us through these events!
We have some great partners that have helped us along the way as well.
Vortex Racing Fan Page – Always keeping us set up with the best rearsets, sprockets, and clip-ons in the business. We've done 2 seasons on their steel rear sprocket!
Vesrah and BD Racing – We did this entire season on one set of RJL XX pads! The best stopping pad in the business… and they're durable!
Autolite Spark Plugs – We've done several endurance seasons on one set of Autolite XS4302 Iridium spark plugs! The best in durability and performance.
Dynamic Motorsports llc – We've just began to scratch the surface in our relationship with Doug at DM. We plan to defend in 2021, and DM will be a big part of keeping the Suzuki stuck to the track!Thanks for all the support! We'll see you at the track next year!
Nobody Cares
UA-191672023-1